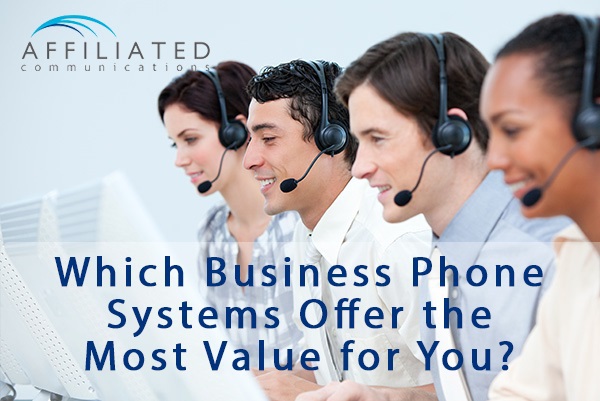 Why buy season tickets when your schedule only allows you to go to half the games? You wouldn't purchase more tickets than what you could reasonably use. The same is true for business phone systems.
You shouldn't pay for features you don't use. You shouldn't pay a high price when you're not getting all the functions you deserve. You need a system that will scale. Ultimately, the goal is to find the best small business phone system that fits your growth objectives.
How do you know what type of system will work best for your organization? Let's take a look at these common questions about business phone systems and the answers you should know before you make a decision.
Affiliated Communications' founder and president, Jim Carter, shared his expertise about business phone systems. We'll start by defining essential terms and then dive into the different types of systems.
Q: What Exactly Does "Premise" Mean?
Jim: Premise means when you have services, equipment or hardware on-site. An on-premise business phone system means that you have a system you own on your land, and your controller or CPU is on-site. You have a list of applications on your site (like screen pops) that communicate with other tools.
Typically, with an on-premise system, you pay for the system, the services, the upgrades and the monthly cost associated with the local long-distance line. Once you own the asset, it depreciates over time. Your typical depreciation is 7 years.
Q: What Are the Major Types of Business Phone Systems?
Jim: You can invest in an on-premise system, a hosted system (where you host your voice communications in your colocation) or a cloud system (that you rent).
Q: What Are the Advantages of a Cloud System?
Jim: A cloud phone system is an operational expense purchase.
You don't have to continually pay for:
hardware
software
software upgrades
maintenance
break-fix costs
The contract covers everything, unless you're buying a third-party extension like RingCentral.
With cloud business phone systems, you're buying:
a service
phones
a unified communications client
a mobility client
access to contact center representatives
possibly a recording
With cloud services, you can rent exactly what you need and nothing more.
The Cost Comparison
While cloud phone systems cost more up front, they actually cost less in the long run. For example, you might look at buying a primary rate interface system (PRI), which is hosted on-premise. If you're buying a PRI and you have 100 phones, that could cost you $1,000. However, if you spend $15/user at 100 users, that costs $1,500. Keep in mind that the PRI system will end up costing you more in telecom maintenance, upgrades and break-fix costs. The cloud services phone system price already includes those costs.
For that additional $500 a month, you'll receive:
new technology
new phones
new unified communications site
new mobility clients for smart phones
software
That's why companies with 200 users and fewer look to the cloud for a positive change. They're finding a lower total cost of ownership with a cloud-based business phone system.
The smaller your system, the longer it takes to get to the break-even point when you purchase your own on-premise phone system. Affiliated Communications wants to help you understand the future impact of these decisions.
Q: Why Rent Your Business Phone System Now?
Jim: Manufacturers want you to move to renting their business phone systems. They're offering deals that most smaller companies can't refuse. Unless you're at maybe 500, but definitely 1,000 phone systems, the prices manufacturers are offering are outstanding.
Q: When Is On-Premise a Good Option?
Jim: If you're running a contact center, on-premise might be the best option. Contact centers require lots of hardware. They might need computer-phone integration (CPI). Contact centers also need screen-popping, which routes to a database. For companies with data hosted off-site, screen-popping requires a lot of bandwidth. It make more sense to host it all on-premise.
On-premise can also provide the security healthcare facilities need to be HIPAA-compliant. Companies in finance, banking and trading have to follow strict regulations about the delivery of information and the security of the colocation. Businesses in these areas also need to deal with the issue of access.
Q: Are There Extra Costs Associated with Cloud-Based Services?
Jim: If you use a cloud-based business phone system with virtual desktop infrastructure (VDI), you'll need to pay the experts to adjust the information in the colocation. If you upgrade things often, you'll have to pay the VDI experts to upgrade it every time. It might be more cost-effective to choose an on-premise system instead.
The next revision of technology is SD-WAN, which provides 2 different pipes (for instance, fiber and coaxial). You can get about 10x the amount of data/pass-through. Ultimately, you receive much more bandwidth for the same cost, but the point-to-point is expensive. You can get an MPLS-type response with SD-WAN. It's like PRI and analog trunk – MPLS is dead. SD-WAN is the way to go!
Q: What Are the Benefits of SIP Trunking?
Jim: Analog trunking is the traditional on-premises method that many companies are leaving behind. SIP trunking is smarter and offers disaster recovery. It can be utilized on the internet. Different services (like recording) can be added. It's also colocated. SIP trunking systems can provide simultaneous rings, meaning that one call could go to both your cell and desk phone simultaneously.
With SIP trunking, you also have the option to offer extended hours without added pay (for example, hours in CA and NY). SIP trunking has proven itself smarter, faster and stronger than analog trunking.
Q: How Long Does It Take Affiliated Communications to Transition Business Phone Systems?
Jim: It depends on the services you need. What's outside of our control makes it hard to predict the timeline. If an internet-based phone system needs to move to an SD-WAN architecture, like VeloCloud, that typically only takes a couple days. However, in outlying areas it could take up to 3 months.
Affiliated Communications is very agile. If you're moving to AC, we'll give you your dial tone. We can forward calls going to your existing numbers to temporary numbers while we wait for the carrier to port them over. We then get rid of the temporary numbers, which reduces the porting problems with the manufacturers.
One issue our clients encounter is that manufacturers want to port numbers during business hours. If porting doesn't go well, you'll have downtime. We provided disaster recovery services (like the temporary numbers that forward from your original numbers) to reduce or eliminate the downtime.
Q: How Can Affiliated Communications Help?
Jim: We help you negotiate the best price through the manufacturer. Then, we can roll out our Affiliated Communications system on a temporary basis. If you like how our system works with your infrastructure, we can set up the whole system for your company.
With Affiliated Communications, you'll have access to an infrastructure of individuals with technical experience who can ensure the smooth operation of your business phone systems. We provide managed IT services that cover everything from installation services to quarterly meetings.
https://www.affiliatedcom.com/wp-content/uploads/2021/04/business-phone-systems.jpg
401
600
Lindsey Carter
https://www.affiliatedcom.com/wp-content/uploads/2019/01/Affiliated-Communications-logo.png
Lindsey Carter
2021-04-27 14:18:21
2022-06-27 10:46:26
Which Small Business Phone Systems Offer the Most Value for You?