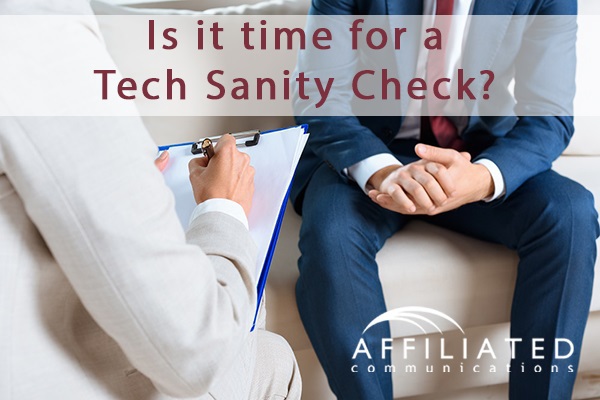 When frigid temperatures rolled across the state of Texas, connectivity issues plagued people in rural areas and cities alike, and pandemic-led shutdowns forced businesses to try and operate with a completely remote workforce. We saw a neon sign calling for people's attention: It is time to rethink your strategy and outsource IT.
If there was ever a signal that businesses need to rethink how they manage their IT networks, velocloud (SD-Wan) and unified communications, this was it. Taking steps to outsource IT can help your business thrive.
It
I
s Time for Your Sanity Check – Outsource IT
You excel at what you do. If your customers hire you to build a product or deliver a service, you can provide them with an excellent deliverable. However, there are many aspects to running a business that don't involve the production of your product, such as your IT support.
There is someone who can do it faster than you, better than you or help you control costs. It is time to let go of the idea of trying to manage everything in-house.
Outsource IT infrastructure and unified communications. Doing so contributes to business growth and stability through:
Fixed labor costs.

Put aside worries concerning paying overtime. If you have outsourced the costs, then your fixed budget will make it easier to plan ahead.

Tak

ing

advantage of a partner's expertise.

When you work with an outsource IT professional, you know that they manage responsibilities and tasks just like yours every day. You place your company in the hands of experts and know that they will get the job

done

more quickly and efficiently than you could.

P

eace of mind.

If something goes wrong with your

cloud services

or you need to troubleshoot your

velocloud

(SD-Wan), you're ready. Third-party vendors bring sophisticated, robust networks that allow them to manage any troubleshooting. A business dedicated to those systems already has the infrastructure to repair it.

Tak

ing

a major component off your plate.

You have a lot to manage, and you do not want to take on the in-house initiative to update your networks and

business phone systems

or manage the necessary adjustments for disasters. Outsource IT to eliminate this source of stress.
Disaster recovery and the difference 2021 brings
This past year has been a trial for businesses across industries. Workers have had to set up offices in their homes and figure out a way to organize with their teams through video conference calls. This reorganized businesses and greatly increased the positive potential of outsourcing.
With a team of remote workers, businesses have relied more than ever before on their IT infrastructure, cloud services and phone systems. Additionally, between fires and abnormal freezing temperatures, large portions of the country have seen firsthand the importance of well-equipped disaster recovery.
The tumultuous experiences of the past year have shone a bright light on the benefits of working with an outside partner. When problems strike, your partner bears the costs of putting the necessary servers into place, lowering your total cost of ownership as well as the stress and struggle associated with managing the IT on your own.
How to Know When You Need an Outside Partner
Begin by sitting down and evaluating your processes. Ask yourself:
Where exactly do you want to go with your business?

What do you need to do to reach those goals?

How can you get there?
Outsource IT and look at all of these different aspects from a professional and personal standpoint:
Can you bring someone in who can help you accomplish business tasks faster or better than you can?
Could an outside party help you add value to your business model and achieve better results?
Outsourcing can take on a variety of different roles within a company, from managing telephone systems to IT infrastructure to managing hardware and software needs.
Many businesses find that their technology usage and budgeting offer tremendous opportunities for growth. Their IT department might operate more on a break/fix plan rather than a growth plan, simply because the resources and manpower in the department must stretch so thin to cover different areas of responsibility.
For your business to evaluate the potential role of outsourcing in your organization, you want to have a plan in place. Knowing what you want to accomplish with your organization and where you might fall behind, such as customer satisfaction, can provide an excellent opening for finding vendors to partner with.
Selecting the right partner for your unified communications
The key to using outsourcing lies in selecting the right partner. Companies will see the greatest success when they can select a partner that aligns with the company goals.
Selecting the right partner should follow a 3-step process.
1. Determine if this partner understands your precise verticals.
2. Ask yourself if they align with the way you do business. Do the SLAs (agreements) in place correspond to my expectations?
3. Finally, Can I be successful with them?
Remember that making a purchase can be done happily or stressfully, but only one will result in a positive relationship with the third-party vendor. Walking yourself through these questions can help make the entire purchasing experience a positive one.
Take Charge and Lead
Y
our Business Forward
As a business leader, you manage your company with the best interests of your brand growth, customers and employees in mind. We have seen countless times, however, businesses trying to manage too much in-house rather than focusing on areas where they excel.
Outsourcing does not require you to eliminate people and transition to an outsourced workforce. Instead, it can be:
Changing the responsibilities of IT team members so they manage the more intensive, business-focused tasks and leave the low-level stuff to the outside partner

Subcontracting tools

Hardware and software to benefit IT staff and maximize their potential
Am I doing the right thing?
If you are wondering if you manage your IT as optimally as possible, you need to do a sanity check.
This check examines your current IT structure for weaknesses and helps you identify areas where outsourcing might help you improve your customer services.
Here at Affiliated Communications, that is what we do to help you get started. We walk businesses through their sanity check without charging, helping them identify areas where they can better streamline processes and make better use of their resources.
If you are ready to conduct your sanity test to see how outsourcing can benefit your business, reach out to us today. We will help you better understand areas you can optimize and if outsourcing will provide you with the tools you need to grow.
https://www.affiliatedcom.com/wp-content/uploads/2021/04/outsource-IT.jpg
400
600
Lindsey Carter
https://www.affiliatedcom.com/wp-content/uploads/2019/01/Affiliated-Communications-logo.png
Lindsey Carter
2021-04-02 19:00:36
2022-10-03 05:49:48
It Is Time for a Sanity Check: Outsourced IT and Your Business Growth