RingCentral and Mitel recently announced their partnership that will see Mitel's unified communications-as-a-service (UCaaS) products move to RingCentral's Message Video Phone (MVP). But what does this mean for your business phone systems? Should you automatically move to MVP or should you weigh your options a bit? Whatever you decide is best for your business (or if you can't decide), Affiliated Communications can be with you every step of the way.
What's Next for Mitel?
In November 2021, Mitel sold its cloud business to RingCentral. The new offering is known as MVP, which is available at the same current monthly spend to businesses who were using Mitel cloud services.
However, even though you can migrate to MVP right now, that doesn't mean you need to rush the process or even make a decision for your business phone system today. Mitel announced a roadmap for the retirement of their business phone system and cloud services. Although you won't be able to buy a new Connect system after 2023, you can still use add-ons until 2028 and you have until 2029 before Mitel closes their UCaaS for good.
And if you prefer an on-premise phone system, it's worth noting that Mitel recently started a new subscription service for their 3300 platform. You could save money by leasing from Mitel than buying outright.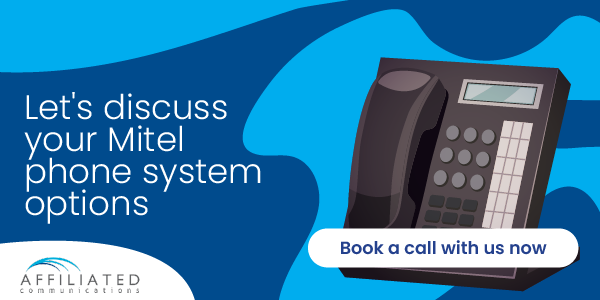 The Migration from Mitel to RingCentral – What Should You Expect?
Although you technically don't have to switch over to MVP this very week, or even this year, if you do wish to change, the migration has proved to be simple, straightforward, and hassle-free. Affiliated Communications has already helped several companies make the switch and have not experienced any issues moving customers over. This, in part, is thanks to RingCentral's amazing project management staff and, of course, their cloud solutions.
Ring Central is an all-star when it comes to UCaaS. They have a robust, reliable network behind their phones and applications which means you can take advantage of their capabilities and top equipment. As one of the largest UCaaS providers, they are most definitely a premier option for businesses looking to move on from Mitel.
Should You Make the Switch to RingCentral as Your Business Phone System?
It's important to note that RingCentral isn't your only option, and you shouldn't make the switch to them simply because they partnered with Mitel. Instead, we recommend that clients call us for a consultation to go over their options. Ring Central is a great product, but it may not be the best for your organization and our team can go over your needs, wants, and budgets to uncover the best solution for your business.
Which Business Phone System Fits Your Needs?
We understand that your business is unique, especially in today's work environments between in-office, hybrid, and remote setups. It's important to note that business phone systems are unique as well. There is no "one-size-fits-all" option. Going with the wrong phone provider could mean you don't have the proper systems your business relies on or needs to thrive. This in turn, could result in lower efficiency and productivity, frustrated employees and upset customers.
Whether RingCentral is best for your organization or not, we can assist you in identifying which business phone system best fits your needs. Our experts know the intricate differences between various options and can help you nail down which system is best for you. In addition to RingCentral, we work with several different cloud phone systems including 8×8, Clear Cloud, Zoom, and Avaya.
We'll go over details, proposals, and more with you to identify which phone system best suits your company. Affiliated Communications can also help you negotiate the price down thanks to our long-standing connections with cloud service providers.
What if You Want to Stay with Your Existing Phone System?
Businesses don't have to make the switch from Mitel or other on-premise phone systems immediately, especially since Mitel is not completely canceling their services until 2029. We understand there are benefits to staying with older, even discontinued, services that you could want to take advantage of, and we're equipped to help you make the most of those phone systems. In fact, we're still assisting Nortel customers, and Nortel has been defunct since 2013!
If you're in this boat, our team will, instead, focus on assisting you with cutting costs, negotiating contracts and improving maintenance agreements. And if you decide you'd like to make the migration at a later date or make the change in phases, we can help you through every step of the migration and even keep your premise-based phone system in place in the meantime.
Choose Your Business Phone System Path with Affiliated Communications
Whether you're going to RingCentral, staying with Mitel, or moving to another cloud business phone system, Affiliated Communications is here to help. We have service-level agreements of 2 hours, we won't be undersold, and we have fantastic billable rates. With local inventory, experts, stock, and team members, we always focus on adding value to your company and ensuring you're happy with our services. From the top down, our team is invested in the business, meaning each team member is invested in your success, too.
We understand that change can be scary, and that's why we fully recommend a conversation before making a switch to a new business phone system. We'll take the time to discuss what you need, what you want, and where you can move from here.
Interested in Starting that Conversation? Let's talk.
https://www.affiliatedcom.com/wp-content/uploads/2022/03/bigstock-Businesswoman-Typing-In-Phone-445088597-1.jpg
1768
2800
Affiliated Communications
https://www.affiliatedcom.com/wp-content/uploads/2019/01/Affiliated-Communications-logo.png
Affiliated Communications
2022-03-28 20:57:55
2022-11-11 07:17:29
What's Next at Mitel and What This Means for Your Business Phone System