"Guess which number to call" for your technology problem today is a drain on your time, energy and business focus. Using one helpdesk ticket system for problems with your internet, another when you have a cybersecurity concern and yet another for an issue with your phones causes confusion and miscommunications.
When an organization depends on multiple vendors for its tech needs, there's also typically a lack of clarity around the IT budgets. With multiple invoices due at different points in time, keeping your IT budgets on track can seem like a full-time job. Vendor consolidation provides an effective solution.
The Importance of a Technology Budget
Knowing exactly how much your organization currently spends on IT solutions and planning a strategic budget for your future IT needs are crucial to your organization's financial health. Accurate and sufficient IT budgets provide many benefits as they:
Hold vendors accountable
Minimize expenses
Maximize profits
Smooth internal audit processes
Plan for future IT solutions
A comprehensive IT budget will allow your organization to ensure that funds are spent appropriately and are available to adopt new innovations as they are released – which will bring you closer to reaching your business goals.
Learn about our One Bill solution.
3 Strategic Steps to Review Your IT Budgets for Next Year
Whether you currently have a dedicated IT budget or you're in the beginning stages of establishing a budget for next year or the following year, taking the right steps in the planning process is essential.
Step 1: Look for the Money Pits
Before you begin identifying the IT expenses that bring the least value to your organization, analyze your current IT spending. Verify that all costs that are currently classified as part of your IT budgets are actually IT costs. Many IT budgets are inflated because essential infrastructure expenses are attributed to IT when they should be classified as facilities or otherwise. Use a standardized cost classification system, such as CBM, to resolve this issue.
Then, analyze your IT budgets with an eye on wasteful expenses. Pinpoint which expenses require the most financial investment while providing the least value. If there is a service you're paying for that you're not using at all, negotiate the removal of that service and its charge from your contract.
During this process, look for where your services overlap. You may be paying twice for one service, such as voicemail if it is included in your contract with both your business phone system provider and your internet provider.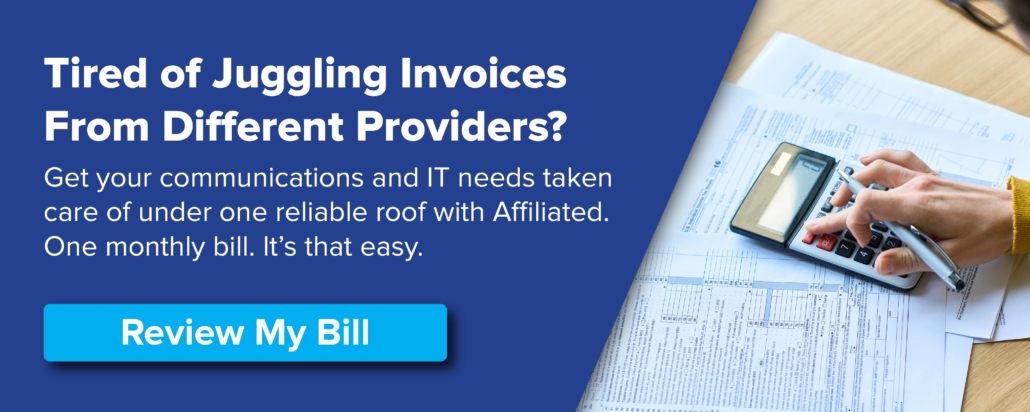 Step 2: Analyze When and Where to Invest More
Traditionally, budgets are rolled out on an annual or biannual cycle. Consider moving to a quarterly cycle so you can adapt to the ever-changing IT landscape. A more frequent approach to your IT budget allows you to prioritize your business goals and cybersecurity needs first.
After determining if and how to reschedule your IT budgets, identify which areas of your technology spend need additional investment. You may need to enlist the expertise of a cybersecurity consultant, a systems engineer or other IT professionals to identify which areas need the most investment.
Step 3: Consolidate Your IT Budgets
After you have analyzed your budget, you might discover that you're paying some vendors for services that you don't need at all or that you're paying multiple vendors for the same services. For example, your managed services provider may offer the cybersecurity expertise that you've been paying a third-party consultant for, and at a discounted price.
Reduce Costs with Vendor Consolidation
Vendor consolidation combines the current products and services you are purchasing from multiple vendors into one package from one vendor. Instead of chasing down one vendor to fix your business phone system and another to update essential line-of-business software, there's one number to call.
With vendor consolidation, you'll:
Enjoy stronger relationships with your vendors
Save time and energy
Benefit from better quality control
Most importantly, vendor consolidation allows your organization to benefit from financial efficiency. With fewer bills or even a single bill, your accounting department will be able to analyze invoices more effectively for duplicate charges, errors and overcharges. Organizational leadership will be able to understand the IT budget and present it to key stakeholders more clearly. Vendor consolidation simplifies while also reducing costs. As an added benefit of working with Affiliated, when we consolidate your bills, we try to co-terminate contract dates so you don't have to spend any more money than necessary.
Ready to save? We thought so. Let's get started.
Save on Your IT Solutions with Affiliated Communications
Focus your energy where it's needed the most. You don't have to take on renegotiating contracts with multiple vendors, finding the best discounts on products and services and communicating these changes with all your departments.
Our team at Affiliated Communications will handle the vendor consolidation process for you. We'll apply our almost 40 years of expertise to find the best and most cost-effective IT solutions in your area. Bring all your communications and IT needs under one roof with Affiliated and stop losing time and money to unnecessary IT expenses.
Drop us a message if you're interested in learning how we consolidate vendors and bills.
https://www.affiliatedcom.com/wp-content/uploads/2023/11/Streamline-operations-and-save-with-vendor-consolidation-1-scaled.jpg
1707
2560
Affiliated Communications
https://www.affiliatedcom.com/wp-content/uploads/2019/01/Affiliated-Communications-logo.png
Affiliated Communications
2023-11-07 20:18:03
2023-11-07 20:19:19
How to Review Your Budgets and Consolidate Vendors for 2024